This post is written in partnership with HP and Collective Bias. All opinions and ideas are 100% mine! #CreatewithHP #CollectiveBias
Last weekend I went to help our little sister, Lo, move in to her college dorm room! YES! We have a sister who is a freshman in college this year!! I still remember when she took her first steps at my wedding almost 18 years ago. Since there is such a big age difference between us, I haven't ever had the chance to live with her, but we are still very close and I was so excited for the chance to help her move in and decorate her new room at school.
I also brought her a "dorm-warming" gift that I knew she would go crazy for… a sleek new HP printer! She doesn't have a lot of extra space on her desk, so she needed something really compact but totally functional. I found this new HP AMP Printer at Walmart, and it was totally affordable. The coolest thing about this printer, is that it's a smart phone ready printer with a built-in Bluetooth speaker and Smart Amp technology to play her music while she prints! You can also make and take phone calls directly at the printer, and keep your smartphone charged. I'm actually pretty jealous that I don't have one myself!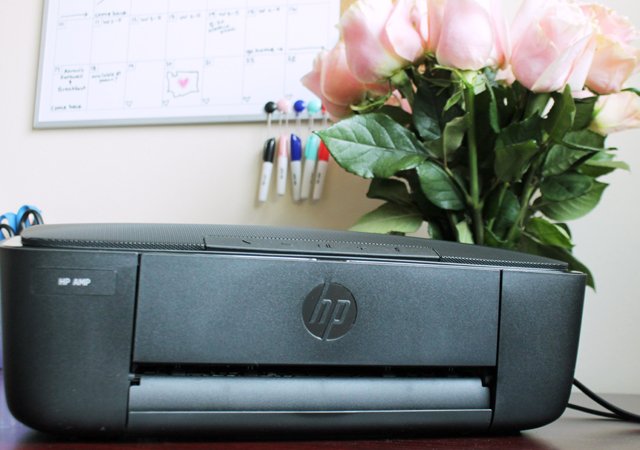 If you want one as much as I do, just hover over the image above to shop this awesome one-of-a-kind printer!
She was totally stoked about the Bluetooth speaker feature, and couldn't wait to get it all set up! Installation was really simple, she did it all herself. When we started listening to music, we were both surprised at the amazing sound quality it produced!
I wanted to make her a custom printable for her room, so I used an awesome inspirational quote that ties in school and studying with how important it is to have faith in every situation. I hope that when she sees this in her room, she will know that she is being watched over and guided in this new adventure! You can download your free copy HERE.
While we decorated her dorm, we enjoyed listening to one of her favorite playlists and had a great time talking about some of the fun experiences she had during her Senior year, and how she was feeling about starting out on this great new adventure as a college freshman! I helped her create a picture board with some of her favorite photos of close friends and family, to help remind her of all the people who love her and are cheering her on!
We had such an amazing time together, I was sad when I had to go back home!
If you are as excited about this printer as I am, you can actually get a live demo of the HP AMP at several Walmart stores. Walmart is the only store that carries the printer, so make sure you snatch yours up soon! At my local store, it was located on an endcap in the electronics section, near the other music devices.
If you have a college student going back to school or any kids at home, this is a perfect option for a printer. What other back to school must haves do you have for your kids?